Camden in London is the name that always comes up when one thinks of things to do in London. The tourists' choice, the Londoner's favorite, and my highest recommendation is Camden. This vibrant neighborhood is surrounded by the London Zoo and three gorgeous markets - the Chalk Farm market, Buck Street, and Camden Lock. The Camden vibe is something you would want to go back to repeatedly. Camden is positioned in the north of Kings Cross and just two stations away if you take the northern line tube from the Kings Cross station. Well! Since now you are in Camden, let's see what you can do next; so here are the ten best things to do in Camden, London England.
Cheap Souvenirs Everywhere!
Camden is the best place to buy souvenirs. From fridge magnets to the little red bus or the phone booth money box, you get everything here. And it is cheap. Shopkeepers here are kind enough, so feel free to bargain. And in the evening, when the market is near closing, the prices usually drop. I once bought 16 fridge magnets for £7. Besides that, you can get cool London T-shirts, hats, baby rompers, and much more. Here's a list of London souvenirs you can buy.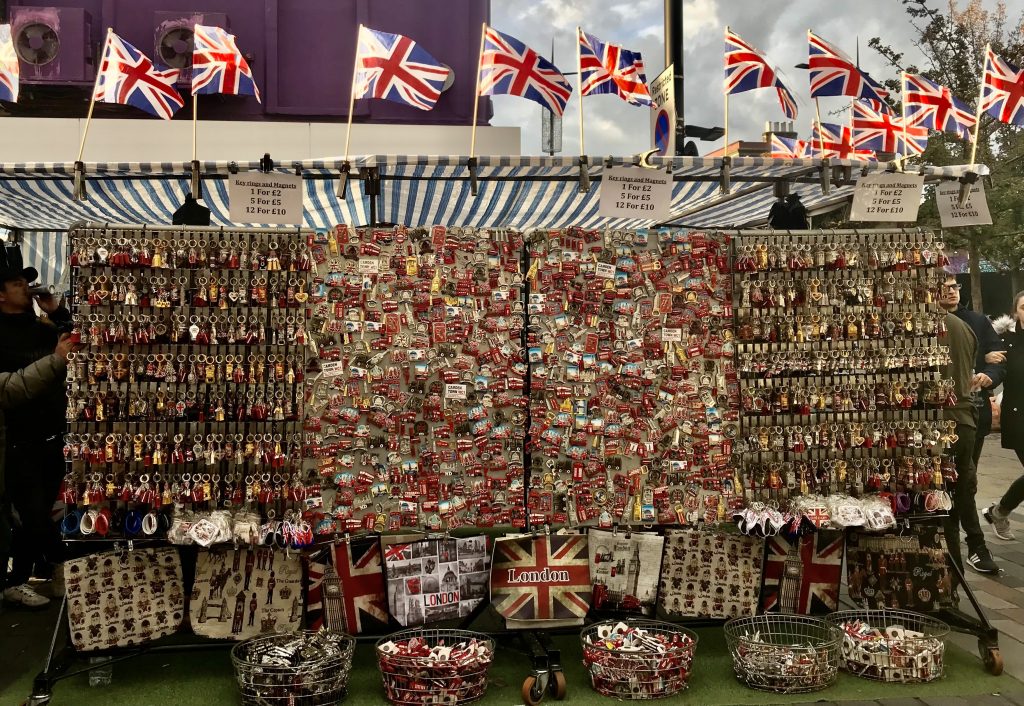 The Beautiful Streets of Camden
Camden town has these beautiful little streets with pretty decor and wall paintings. One of my favorite things to do in Camden is locate such streets because, yes, they are gorgeous. Camden is an artistic place, and in fact, there are some great artists with unique art pieces. Exploring these streets brings some honest relief to the eyes, and with the colors and magnificent art, the beauty of this place just gets better.
Spend Time at Regents Canal
The water stream moving through Camden is gorgeous, and following it a little further, you find Little Venice. It's a nice, quiet place away from the hustle of the market area. It's a pretty little hidden gem in London where you can row boats and have a quiet time. You will find some joggers there, and people who come for the sun in the winter, and those are really a few.
Enjoy the View from Primrose Hill
Walking toward the north of Camden Town, you will come across a pretty neighborhood, Primrose Hill. Primrose Hill has colorful, gorgeous buildings that you can enjoy viewing. The houses around the Chalcot Square Gardens add a traditional charm to the city. And hey! Don't forget to take a lot of snaps. Primrose Hill also gives one of the most amazing views of London city. On a bright day, you can enjoy the city view and relax for hours.
Street Food at Kerb Camden Market
Well! Food options are endless in London, and even when you enjoy going to fancy restaurants, you will always come back to food trucks. One of the best street food markets is in Camden. Kerb Camden market has more than 30 food vendors all in one place. From Vietnamese to Mexican, you will find the yummiest cuisines. Most vendors let you taste the food before you buy, which certainly makes it easier for you because of the crazy variety. If you like chicken, I recommend Katsu Curry: It includes rice, fried crispy chicken, and authentic Japanese curry. It's yum!
Camden High Street
While Camden has many colorful little streets, its high street is a must-visit. From the Camden tube station to the Chalk Farm tube station, you will find many shopping spots, restaurants, live music bars, pubs, a glimpse of the Regent's Canal, and a great market to explore. Moreover! It's just so pretty.
Camden Pubs
Let's be honest; you cannot miss going to a pub when in London. Moreover, Camden is famous for its nightlife, so one cannot overlook the pubs here; they are historic and charming. Some of the famous pubs here are The Black Heart and BrewDog Camden. But the sky is the limit, my friend. Why settle for one when you can do bar hopping and explore different places?
Enjoy Live Music at Camden
If you love listening to live music, then Camden is your place. Almost every bar here has live music. You can keep track of all the upcoming gigs and plan your visit to Camden accordingly. Check out Visit London music listings.
A Gig at the Roundhouse
Camden will always surprise you when it comes to music and art. The Roundhouse is Camden's most iconic venue for music and art performances. This performing space will never disappoint you and fill up their calendar with great gigs that one can choose from.
Roundhouse not only provides a stage for existing artists; it also offers creative workshops for creative young people between the ages of 11 and 30. Most of the workshops are free or have a minimal fee, like £2 per session. Seeing a performance is undoubtedly one of the best things to do in Camden.
Spend Time in Regents Park
All seasons in London are beautiful, and a fantastic place to experience the weather in London is the parks. While there are many parks in London, Regents Park is one of the best parks in Camden Town. It is one of the largest royal parks in central London. There are many open spaces, wide walking paths, an open theatre, a children's playground, and the largest boating lake. There is also a separate boating lake just for children. Being one of the largest parks in London, you can do many things here. Take a picnic, enjoy the cafes in the park, and have a nice boating day. Here's a map for your reference.
These were some of the best things to do in Camden, London, England. You can also visit the museums nearby or spend a day at London Zoo. Camden is a lively neighborhood; even one full day here won't be enough. If you are on a short stay, plan accordingly to get the best out of Camden. Happy Travel!