A travel journey is always incomplete until you have some great memories to take home. The captured moments do most of the work, but one thing that makes you feel excellent is a souvenir. You can simply look at it and say, "Hey, I was there." Souvenirs are also a great gift to share with family and friends. Yes, I understand what you are looking for must be unique and something you can only buy in London. Hence, I have put together some of the best London souvenirs you can take back home.
1. Street Signs
Each street in London has a signboard that helps you discover the story behind every lane you travel. Well! Did you know that you can take your favorite street sign home? It's available in the form of a door sign or fridge magnet. You can buy one and always cherish your memories and proudly say that's the street where my vacation home was.
2. Souvenirs from Harry Potter
If you have been following Harry Potter, you know the UK is the origin of the Harry Potter book, which was later presented to its audience as a series of movies. London has many tours, shooting locations, and many shops where you can buy Harry Potter souvenirs. From the elder wand to the dress Hermione wore at the Yule ball, you will find many fascinating things to take back home.
3. London Gin
Gin and tonic is a popular liquor in the UK and renowned worldwide. London Gin is something you should definitely take back home with you. Look for brands like Beefeater, Tanqueray, or Sipsmith.
4. Local Tea and Teaware
England is famous for tea, so why not try some delicious tea flavors? It also comes in great packaging that reminds you of things you only see in London, like a red booth, a red post box, or a London Bus. You can visit a traditional tea shop like Twinings on the Strand and pick up some high-quality English tea. You can also find elegant teapots, teacups, and saucers to recreate the British tea-drinking experience.
5. Shortbread
Scottish shortbread is very popular in England and is one of the tastiest snacks to carry around while you travel or take back home to enjoy it with a cup of English tea. It is a top pick for sweet tooth.
6. Cheese
England is popular for its rich cheese-making tradition, and bringing home a selection of English cheeses as a souvenir is a delightful choice for cheese lovers. From the creamy luxury of Stilton to the robust depth of Cheddar, you have many options to choose from.
7. Fridge magnets
Well! A fridge magnet is one of the most common souvenirs and can be found easily in London. If you plan on buying it in bulk for friends and family, Camden is where you can find inexpensive London magnets. In fact, do check out my other story on the 10 best things to do in Camden - London, England.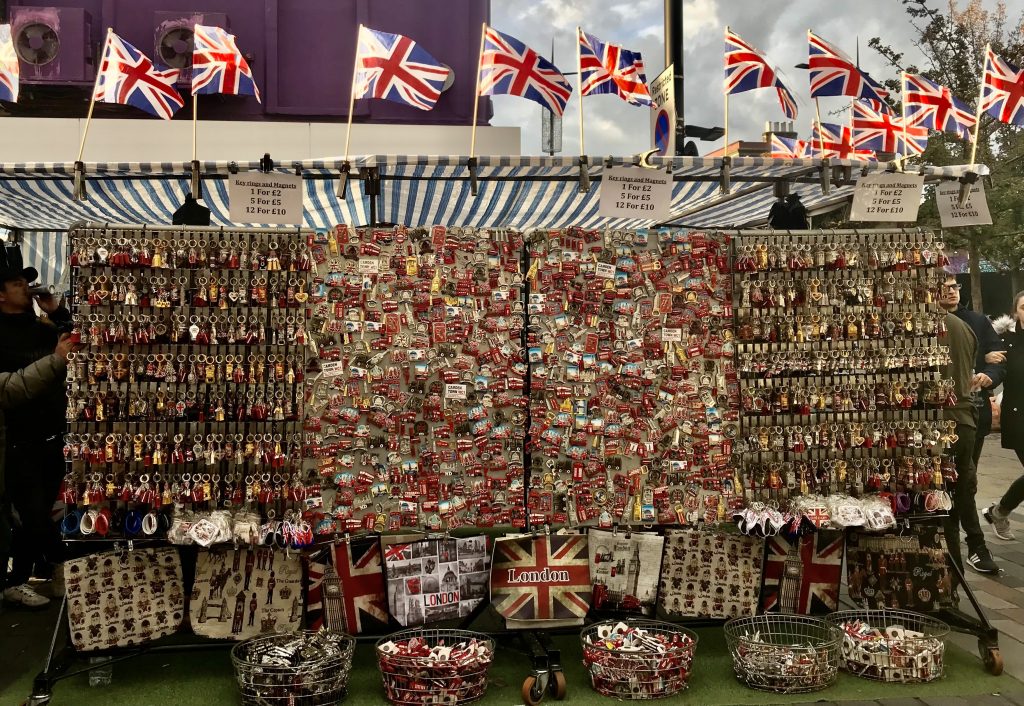 8. Keychains
Simply add a London memory to your car or apartment keys. Just like a Fridge magnet, key rings can be a great buy from Camden market; you can choose from a wide variety.
9. Coffee Mug
What is a better way to start your day than sipping your morning coffee and remembering your good times in London? You can also find coffee mugs in different sizes; my favorites are those tiny espresso cups in beautiful London Prints.
10. Kitchen Towel and Apron
If you are a chef by profession or spend much time cooking, Kitchen Towels and Aprons are a great souvenir to take back home. You can also buy oven mitts and make a London kitchen set for yourself.
11. Postcard
Postcards are my favorite. If you are a traveler and you own a travel pin board, postcards are a great way to decorate your memories.
12. Puzzle
Puzzles are perfect if you want to enjoy an activity and keep a memory from your London travels. I usually complete my puzzle, apply clear glue, and spread it across the entire puzzle. The pieces stick together, and it becomes like a picture so you can place it on the table. You can also frame it and hang it on the wall.
13. Lego
Just like puzzles, lego is another fun activity; it's a great way to spend family time with kids while putting all the pieces together to build a little London for your home.
14. Miniature London Landmarks
You will see miniatures of the iconic London telephone booth in many stores; not just that, miniatures of Big Ben, Tower Bridge, the London bus, the black taxi, the London post box, Westminster, Buckingham Palace, and St Paul's Cathedral are also available.
15. Shot Glasses
Enjoy drinking shots in London shot glasses. You will find a variety of shot glass options with beautiful London prints or simply written London on them. It's one of the best London Souvenirs for you to take home.
16. Take a Book Back Home
London has many stories, both Fiction and Non-fiction. One of the famous bookstores in England is Waterstones, and you will find various books on shires in England, the Great Fire of London, London travel books, facts on London's architecture, and so much more.
17. Local Paintings
Many talented artists present their gorgeous work on London streets. You can't help but stop and appreciate their unique paintings. The good news is they are all for sale. So you can find a variety of styles to take back home. You can spot these fantastic artists near popular tourist destinations, like the London Eye, Camden Town, or Trafalgar Square.
18. Christmas ornaments
Well! If you travel to London around Christmas, you have many options to buy from. One of the most memorable and magical souvenirs is a Christmas ornament with a London landmark on it, and you can also customize it by adding your and your family members' names.
19. Football Merchandise
London is home to more than 10 English football clubs, and a few of them play in the Premier League, including Arsenal, Brentford, Chelsea, Crystal Palace, Tottenham Hotspur, Fulham, and West Ham United. If you are a football fan, you should definitely get a merch for yourself.
20. Sherlock Holmes Souvenirs
If you're a fan of the famous fictional detective Sherlock Holmes, London offers a wide range of Sherlock-themed items, including books, bookmarks, pipes, magnifying glasses, and so much more. You will find the Sherlock Holmes museum and shop here.
Remember to explore local markets like Portobello Road Market, Camden Market, and Borough Market for a diverse selection of souvenirs and unique, handcrafted items that capture the essence of London's creative spirit. Here are some other London souvenirs you can buy.
Chocolates
Take a UK currency
Tshirts
Salt and pepper shakers
A tote bag
An Umbrella
Bookmarks
Biscuits
Bag tags
Coasters
Bread
Notebook
Perfume
Makeup and Skincare
Candles
London is a city of rich history, culture, and tradition, and taking home a piece of this vibrant city through souvenirs is a delightful way to remember your visit. Whether you're a fan of British tea, a lover of iconic landmarks, or a connoisseur of fine spirits, there's a London souvenir for everyone. So, don't forget to browse the local shops and markets during your trip and find the perfect keepsake to remind you of the incredible time you spent in this captivating city. London souvenirs are more than just objects; they're lasting memories of your journey through one of the world's greatest cities.