Kuala Lumpur is known for the tallest twin towers in the world it owns. Since people travel to this beautiful city to visit the Petronas twin towers, there is a lot more that will hold you back to move out of this place. I spent a few days in KL exploring, eating, shopping and meeting new people. And I have prepared a list of the best things to do when you are you Kuala Lumpur, Malaysia.
Shop at the KL Central Market
The Kuala Lumpur central market is an indoor shopping space where you will find everything, be it food, clothes, drinks, toys, souvenirs and more. I grabbed some great fridge magnets, postcards, tiny twin towers, Malaysian chocolates and some customized cute clothes for my niece. That's my favorite and best-recommended place in Malaysia for shopping. Never miss out on KL central market when you are in Kuala Lumpur.
Get Drunk at Hard Rock Cafe Kuala Lumpur
Hard Rock Cafe? "I have visited that cafe millions of times." I know that. But have you been to the KL Hard Rock? It's amazing. After exploring the city all day, you can grab one exotic cocktail and enjoy your evening. It was my first night in KL when I went to Hard rock and got drunk. After that, at 1 AM I wanted to explore the city and started walking towards twin towers. It's just so close to Hard Rock.
Visit the Twin Tower at Night
Well! There are timings to visit the towers, and you cannot go after 9 PM. I will recommend you to
book your visiting slots
after 7 PM to enjoy the more beautiful view of the city and the towers closely. And to see the towers entirely from outside you can walk around the KLCC central park. But the park has a visiting time too. It is from 7 AM to 10 PM. Like me, you can also go for a night walk and get close to the twin towers at nights.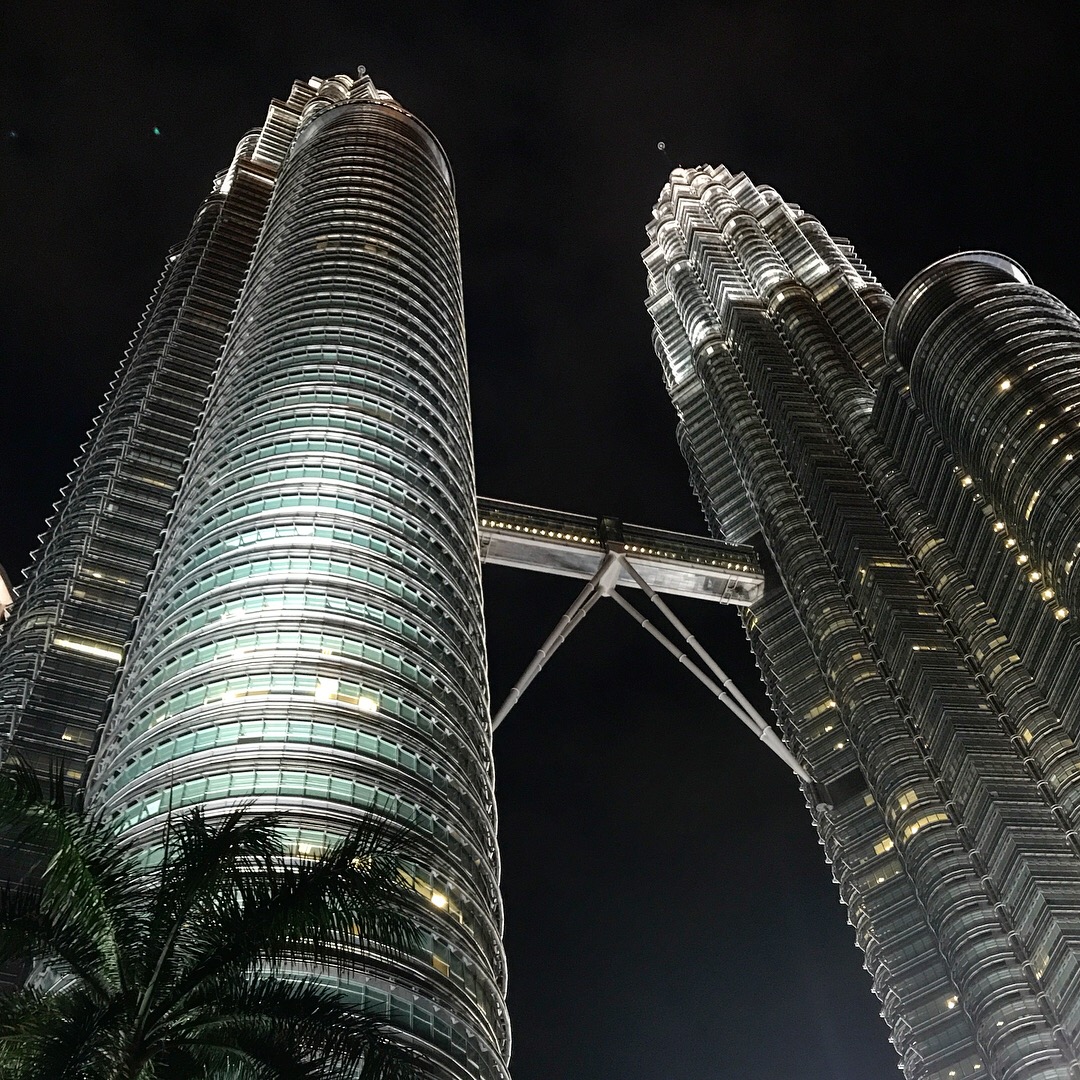 Try Irish coffee at Healy Mac's
Healy Mac's is an Irish bar and restaurant where you get some fantastic range of pizzas and the great taste of Irish coffee. Irish coffee is a cocktail of hot coffee, Irish whiskey topped with thick cream. This place is just close to the twin towers and one of the happening streets in KL at night. I will strongly recommend you to spend some time at this lovely place.
Take A Walk at KLCC Park
Kuala Lumpur city center park is just next to the twin towers and the famous Suria KLCC. As I mentioned in my second point, it's the best place to take a complete look at the twin towers. Just check out this picture below, I captured it while I was wandering around in the park just after my visit to Aquaria. KLCC park also has a night fountain show; you can enjoy that as well.
Enjoy the Streets of Bukit Bintang
Bukit Bintang is the most happening street in KL that I could found. It's a huge shopping spot with some happening street cafes. As I was wandering around the streets, I could hear the jazz music, see people dancing and enjoying the evening. It's a great place to chill after a long tiring day.
Get the Best Street Food in Petaling Street
Kuala Lumpur is a place with a lot of giant restaurant chains, but out of everything the best thing you could find is the authentic Malay street food to enjoy. Petaling street is that kind of a place. It is another fantastic shopping market with some great street food. You will get to taste some Malaysian fruits, jumbo prawns and Nasi Lemak (the must-try Malay dish).
Have Nasi Lemak at Madam Kwan's
Nasi Lemak is a creamy rice dish cooked in coconut milk and pandan leaf. It is served with fried fish, omelet or chicken curry. I tried it with chicken curry at
Madam Kwan's
. I would recommend you to try this authentic Malaysian dish for sure.
Meet Fishes at Aquaria
Aquaria is a beautiful place if you love to see and know more about marine life closely. You will get to see a lot of fishes, crabs, octopuses, and other underwater creatures. There are huge water tanks with fishes that I had seen in movies before, like NEMO. 😛 And the best part is the tunnel. You will be inside an aquarium of 180 degrees, and you have to walk through the tunnel meeting and playing with every fish coming close to you. And you will also see the shark there.
Hang Around Batu Caves
Batu Caves is a place where you can find a lot of cave temples. There is a huge statue of Hindu Lord Murugan at the entrance of the caves. Also, there are over 160 routes in this area, and it's amusing to explore those cliffs and caves. You can walk further to visit more temples and climb around the caves to explore more.
That's my ten best things in Kuala Lumpur. What's yours?