Is travel your life? Mine too. Hey again! Here's another list of my favourite travel quotes that will just cheer up your mood and inspire you to travel.
Inspirational Travel Quotes To Cheer Up Your Mood
DREAM. TRAVEL. DISCOVER
YOUR CURRENT LIFE IS NOT THE ONLY LIFE. EXPLORE.
TRAVEL. YOU'LL BE FINE.
DON'T RISK YOUR LIFE BY LETTING THE TRAVEL OPPORTUNITY GO.
IT WILL FASCINATE YOU, AND YOU WILL BE IN COMPLETE SERENITY.
AND YOU WILL BECOME A STORYTELLER ONE DAY.
LEAVE YOUR FOOTPRINTS BEHIND.
DO YOU REALLY BELIEVE WHAT THEY SAY? GO AND SEE YOURSELF.
IF YOU ARE 22, PHYSICALLY FIT AND DON'T TRAVEL. YOU ARE A WASTE.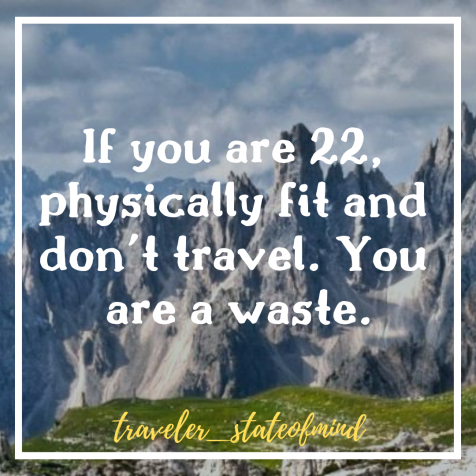 SEE WHAT YOU HAVE NEVER SEEN BEFORE.
COME OUT OF YOUR CITY; THE WORLD IS INCREDIBLE.
START WITH A SINGLE STEP TO COVER THE DISTANCE OF THOUSAND MILES.
TRAVEL TO BE LOST.
TRAVEL TO KNOW YOURSELF STRONGLY.
ONE OF THE BEST FEELINGS IS WAKING UP IN A NEW CITY.
TRAVEL LIKE YOU BREATHE.
So these are a few amazing travel quotes that will cheer up your mood and inspire you to travel endlessly. To get inspired read the best travel quotes on Instagram.